As we all try to thaw out from a really cold winter we will give you a quick update on what we are doing and have done.
Staying busy is the key to fighting the winter blues and getting rid of those holiday pounds we added. So to start of this year we have a bunch of races.
Not only that we have been in the giving mood and those that have asked for our help have received a lot of love from POR in 2018.

Sending good vibes always feel great, and we are fortunate to be able to provide them. Hopefully some of these stories and experiences will give you reason to smile or assess how bad winter has been! Good vibes in 2018, every day we have here we want to make sure there is only room for the good type. Hope you find yourself spreading those vibes once a day, or twice if you skip a day!  #VIBEDAY #PORVIBES
Events:
April 14th & 15th, 2018 // Ville to Ville Relay Race // Asheville NC // Currently we have 4 teams signed up. This is a 75 mile relay race that will run from Asheville, SC to Greenville, SC. There will be a lot of details that we will share if you would like to join us. We'd LOVE TO GET AS MANY MEERKATS HERE AS POSSIBLE – if you just want to hang out and check out Asheville for the weekend, email us!! it's going to be a BLAST.
2 EVENTS on Saturday, May 5th // PCAN Purplestride 5k walk // Exposition Park Los Angeles, CA
// Wildflower Triathlon // Lake San Antonio, CA
Saturday, May 12th // Santa Barbara Wine Half Marathon // Solvang, CA
Sunday, May 20th @ 8am // Tour de Pier // Manhattan Beach, CA // We have 1 bike already reserved and would love to add more if people are interested in joining us at this great event!
Sunday, June 3rd // Love Run // Westlake Village, CA
Sunday, June 24th @ 7am // Hermosa Beach Triathlon // Hermosa Beach, CA
Sunday, July 15th // Napa to Sonoma Wine Country Half Marathon // Napa, CA
Sunday, August 12th // Casco Bay Islands SwimRun // Portland, ME
Sunday, September 30th // Chattanooga Ironman // Chattanooga, Tennessee
Saturday November 3rd, 2018 @ 9am // The 6th Annual POR Almost 10k //  Same place, same time, same stuff (Calabasas, CA)! Reg link will be sent soon.

Racer Roll Call: Lustgarten 5k/10k in Westlake Village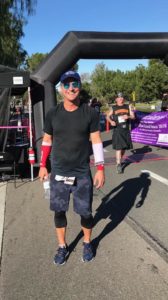 On Saturday February 24th the meerkats went to support a great cause in Westlake Village. Our team ran the 10k and walked the 5k with some very special friends from Lululemon. This walk supported pancreatic cancer research.
While we were out there we collected some hardware, as Chief Meerkating Officer Pat Amato placed 1st overall in the 10k race. His 5k mile splits were far less impressive, averaging 30 minute per mile. The Saturday saute sesh was a great success and hope to have you join us for one of these soon!
Sentry Club: Genesis Open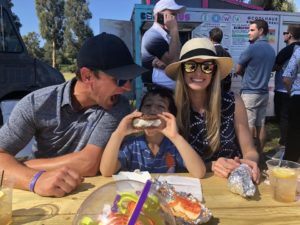 POR was out at the PGA's Genesis Open to watch some golf. The Fischer and Brown families joined us for a perfect day at The Riviera Country Club. The highlight was seeing Derek Fathauer hit the ball off the fairway directly into the cup on the 3rd hole. The ball didn't even bounce, just dropped from the air right into the hole. Witnessed by Pat Amato, Geoff and Alex Fischer.
Hitting the Santa Monica Pier
could not open heic image file…
A few weekends ago a few meerkats stopped at the pier to celebrate Leo Brown's 6th birthday. Showing up fashionably late meant we missed most of the partying, but we snuck into the amusement area on the pier and defied gravity for a bit. Flip Trifunovic showed Clark Willcox how scary the West Coaster, Ferris Wheel, and the formidable Sea Dragon were. Unfortunately we were only able to get this picture of them riding the carousel together!
Team POR: Ville to Ville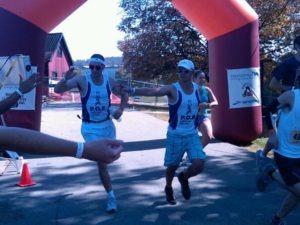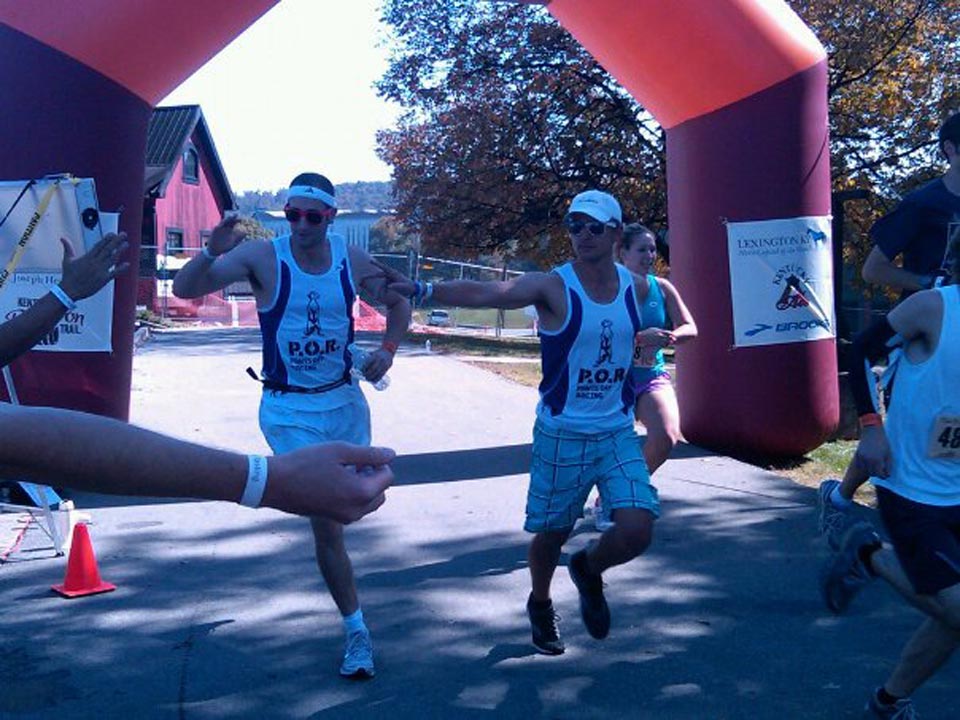 Pants Off Racing will be in the Carolinas in just a couple months. The invasion is happening April 12th – April 15th for a 75 mile relay race from Asheville, NC to Greenville, SC. We have over 24 participants and spectators coming from 10 different states. A huge thanks to Lululemon for making sure we have the best race gear at the event! Along the way we get to do some great sight seeing, and meet one of the families that we have been supporting for years from afar. This is what is awesome about POR, we get to help people we don't even know and now our lives and paths will be crossing. So as much as this has to do with travel, socializing, having a great experience, and being active, it also has a lot to do with meeting others that we share a special bond with. It will be great to finally meet Barbara Johnson, and put a meer-face with the name!
Fundraising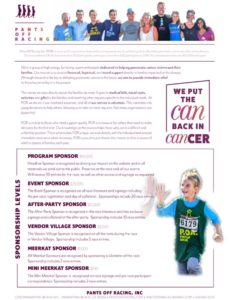 Our fundraising committee has been tasked with raising over $100k for the year outside of the annual race we host. In order to do this we need to make people aware of the work we do and where our money is assigned. We are looking for individuals and companies to assist in our mission to help people that have no other means of finding financing to cover their expenses.
If you have the means of being a sponsor, or you know a friend or company that has the means, please
check out our sponsor flyer
.
Also, there are more ways to support.  Does your company reimburse you for the hours that you commit to service? If so think about Pants Off Racing when you donate your time to community. We are always looking for more people to participate in our outreach program, Sentry Club.
Does your company match your donations or charity gifting?  Please make us one of your matching gifts! We always love the support and could benefit enormously from the matching gifts!
Again, if you have a network that would consider POR as a nonprofit we are all ears. We are looking for great partners to drive forward with. We have an immediate need to help others, and this is a cause that is overlooked, typically. Help us assist others more frequently when there is no one else to turn to.
Impact of Gifts
Besides throwing a race and hosting other small events to raise money each year, we have a lot of support from friends and companies that help drive our outreach program. Often we are asked what this money goes towards. Besides having a lot of amazing meerkat swag, we like to put ourselves in a place of assistance that is basically absent from the market.
In 2017 Pants Off Racing was able to help more than 50 individuals or families out. Each year we are referred dozens of new people that need our assistance. Most of these referrals are figuring out how to confront the realities of being diagnosed with pancreatic cancer. It is in our nature to help anyone out, so on occasion we get some requests to help families that are fighting other serious illnesses. In the past 5 years we have helped individuals, and their families, that are dealing with Hodgkin's lymphoma, leukemia, breast cancer, ovarian cancer, brain cancer, skin cancer, and several other types of cancers.

Our vision and mission is to help those in need. To provide them with the support financially and personally in a direct means. We skip the middle-man. When called to action we develop a relationship and our interactions help to really understand how we can be utilized best.

Here are some ways that we have supported others needs in the past 12 months: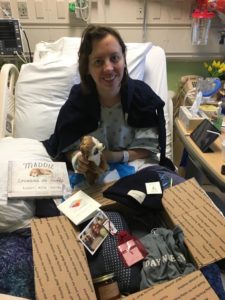 Funded travel for an individual in Kentucky to doctors appointments across states

Bought a laptop for a student going to college who lost a parent to pancreatic cancer

Paid for a week's stay at hospice for a family in Michigan

We have sent more than 50 care packages to individuals that are stuck in a hospital for treatment

We set up a college fund for a family that lost both parents to cancer (pancreatic and brain cancers)

Funded a round of treatment for a new trial for a patient in California (very positive results from this alternative treatment)

We took a family from Austin, TX to Disneyland while they were in LA visiting. The father/husband lost his battle to pancreatic 5 years ago, and his daughters are now 5 and 7 years old.

We sent holiday gifts to 15 families across the country, reminding them that they have support no matter where they live.

This is just a small sample of what we do throughout the year. Some of these examples take very little in terms of time or money, but others can be more demanding. Regardless, this is all done on a volunteer basis and we have developed some great bonds through our outreach program (Sentry Club). If you have any questions about how we allocate our funds please just send us an email @ pantsoffracing@gmail.com.