Our fundraising philosophy is to make the biggest difference we can with what we are given. We focus on people and families who are forced to deal with pancreatic cancer and to make a direct, personal connection with each of them. Sometimes we support emotionally or financially, or with time and presence. We start assisting a person and family when they simply don't know where to start.
All donations and fundraising initiatives are used to develop and expand our charitable efforts to make a positive difference in the lives of others. 100% of money received is used to provide supportive services throughout the stages of treatment and recovery. To live our mission, we do not give to research, we do not pay our Directors, and we do not spend frivolously. We invest in our relationships so all donors – no matter how large or small their gift – can see the power and create a visible difference in the lives of those affected by pancreatic cancer.
Our charitable efforts are not possible without the cash contributions and donations-in-kind from our supporters, and we are incredibly grateful for each gift.
If you would like to contribute to our cause, you may donate by clicking here.
If you prefer to donate by check, please mail your contribution to:
Pants Off Racing, Inc.
624 24th Street
Hermosa Beach, CA 90254
Pants Off Racing started 2022 by becoming proud members of the World Pancreatic Cancer Coalition (WPCC)! POR will be joining in the efforts around the world to raise awareness for the fight against the world's toughest cancer.
The WPCC consists of more than 100 organizations from over 40 countries and six continents. They focus on elevating global awareness, inspiring action, bringing greater attention, advocacy, and better outcomes to this deadly disease.
An important part of the WPCC's efforts is our annual World Pancreatic Cancer Day (WPCD) campaign. Please mark your calendar for this year's event — Thursday, November 17, 2022.
What is the WPCC?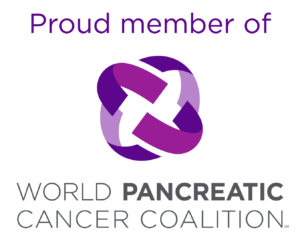 Global collaboration amplifies our voice and raises awareness of pancreatic cancer to save lives. Each year, we increase the reach of our annual World Pancreatic Cancer Day campaign and raise awareness about the symptoms and risk factors of pancreatic cancer to drive earlier detection.
By sharing best practices and leveraging expertise, we strengthen our collective impact and the impact of individual member organizations that will drive transformational change.
We have a globally diverse membership that is highly engaged and unified in its vision and purpose. Members have access to universal tools and resources for World Pancreatic Cancer Day and throughout the year. We speak with a unified voice by using consistent data and information to provide the public with accurate and up-to-date messages about pancreatic cancer. We meet face-to-face annually to share knowledge, expertise and best practices.