2018 6th Annual POR Almost 10k/5k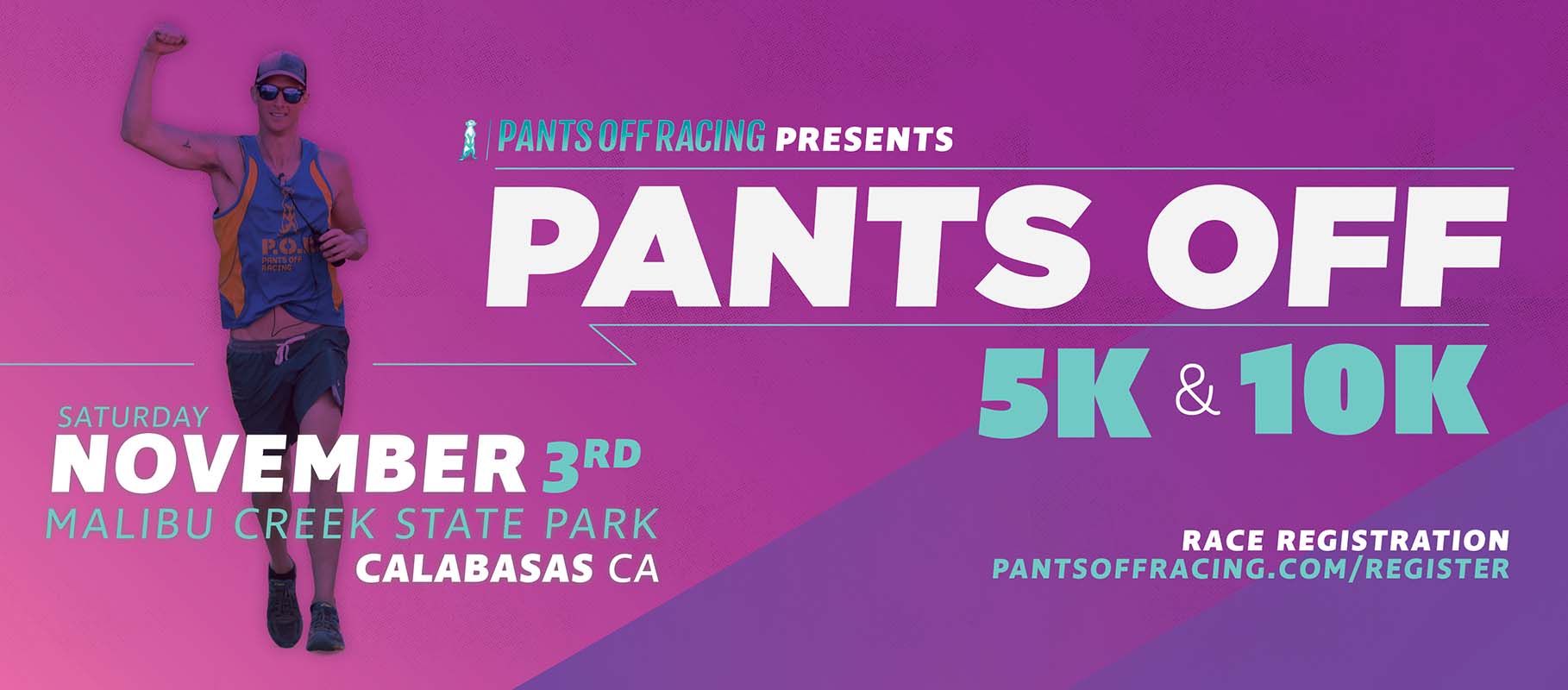 This year we are celebrating the 6th Annual POR Almost 10k and 5k Trail Race (plus 1 mile fun walk/run)! The race takes runners through the stunning trails and hills of Malibu Creek State Park in Calabasas, CA.
The Annual POR Almost 10k/5k is best known for its festive atmosphere.  A true celebration with supporters dressing for the occasion! Check out the costumes and get inspired by the pictures from last year's race!
Highlights of race day include: an ultimate pre-race stretch/dance, inspiring talks from POR families, and the national anthem led by the Pants Off Racing patriarch.
Team Registration Perks
Set up a team and get your registration waived and even some freebies from Lululemon!
Vendor Village
It is not just a race, it's a party! Our Vendor Village offers maximum enjoyment pre and post run. We will have a coffee truck on site for your morning wakeup call, Fresh Brothers pizza, drinks (adult and junior kinds), photobooth, a massage tent courtesy of Massage Rx, POR swag, and:
• Lululemon
• Electric Flight Crew
• Sports Academy
• Bounce house
all located in the Vendor Village!
Even More Fun
We encourage everyone to stick around post race to dance with our resident DJ and to pump up the volume for our awards ceremony!
Also, this year will be our first annual Cornhole tournament. We will send out invites to all participants closer to race day. In the meantime, find a teammate and practice your tosses. If you aren't racing and would like to be part of the cornhole tournament, please email us at pantsoffracing@gmail.com. Winners will get something to take home and show off!
POR Sponsors
We could never do what we do without our amazing sponsors. We promise you that the money you donate to POR goes directly to families. We still continue to assist others on a volunteer basis, so the bulk of the money donated goes to the individuals and families that we meet. Big thanks to all our meerkat mile marker sponsors: Barb Murtagh, Chris and Calvin Coseo of Coseo Enterprises, Justin Gimelstob, Frank Barone, Julian & Zaynah Milward, Scott Gibson & Gibson International, Wheeler & Brittany Morgan of Far West Ranches, Jen & Kevin Kuper, Ali Kaz of Kaz Enterprises, Elaine Sattler, and many more.
You still have time to be a sponsor. Check out the Sponsorship Levels below and let us know if you would like to become a sponsor of our race! Just email us at pantsoffracing@gmail.com
POR After Party
Whether you join us for the race, or not, come by Big Dean's in Santa Monica. Starting at 7pm POR Meerkats will have space reserved. Big Dean's is located conveniently under the Santa Monica Pier. You will enjoy being outdoors, just a few feet from the ocean and beach! As always, let your friends know about the party and bring them out for a fun night!
Hotel Deals
One last note, if you are planning on staying near the race we have a hotel discount with our premier hotel partner, Courtyard Marriott in Thousand Oaks The group rate for Friday, November 2nd is $124-$139  but your room(s) must be reserved by Oct. 5th. Another hotel, convenient to the start line, is the Hilton Garden Inn Calabasas. The Hilton is the closer of the 2 hotels, but slightly more expensive.
The after party Saturday night will be in Santa Monica, so plan on using hotels.com to find something closer to the beach!
Course Maps and Info
Want to learn more about our race? Check out the course maps and descriptions:
5k Summary:
The 5k course is a flat trail run designed for all types of runners. Runners will have plenty of room to run and pass others over much of the course. There will be one section of the course where runners must stay to the right as the course doubles back on itself. There will be 2 water stations on the course and running joggers/strollers will be allowed on the 5k course. Remember to smile for the cameras!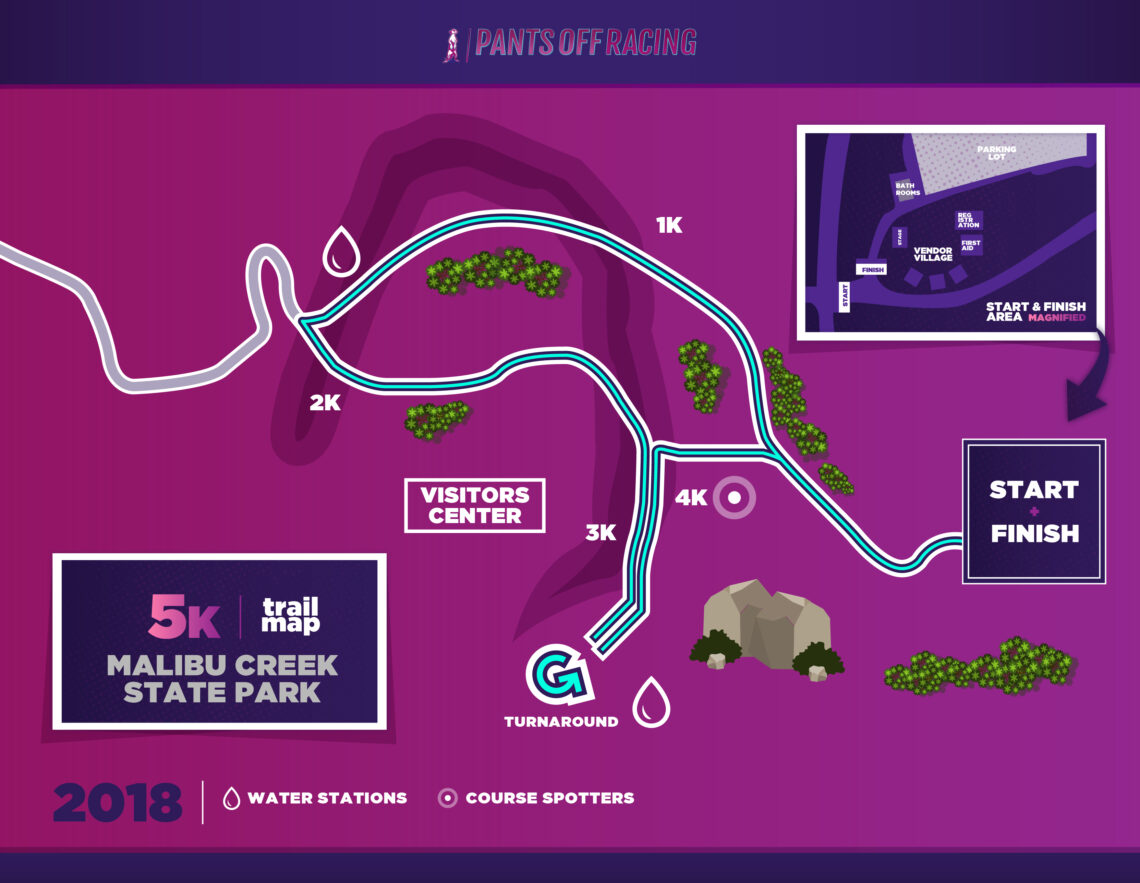 10k Summary:
The Almost 10k course is a challenging trail. For this distance we will not allow strollers/joggers due to the many single track areas of the course. For the 10k distance we recommend racers to wear trail running shoes and bring hydration. There will be 3 water stations on the course.
This course is challenging, and features over 1,250 feet in elevation gains. Hill training is suggested. The most challenging portion of the run is a climb at the midpoint of the race. At the top of this climb we will have a spotter ready to take your picture at an area designated as "Meerkat Lake". Smile for the camera and sauteé the remaining 5k back to the finish.
But don't fret, this course is BEAUTIFUL! You will go through the vast wilderness Malibu Park has to offer. Runners will pass the iconic Reagan Ranch, and are further rewarded with amazing trails completely covered by the treeline. This is a trail runners dream run! All the sweat and hard work really brings those that finished the 10k together.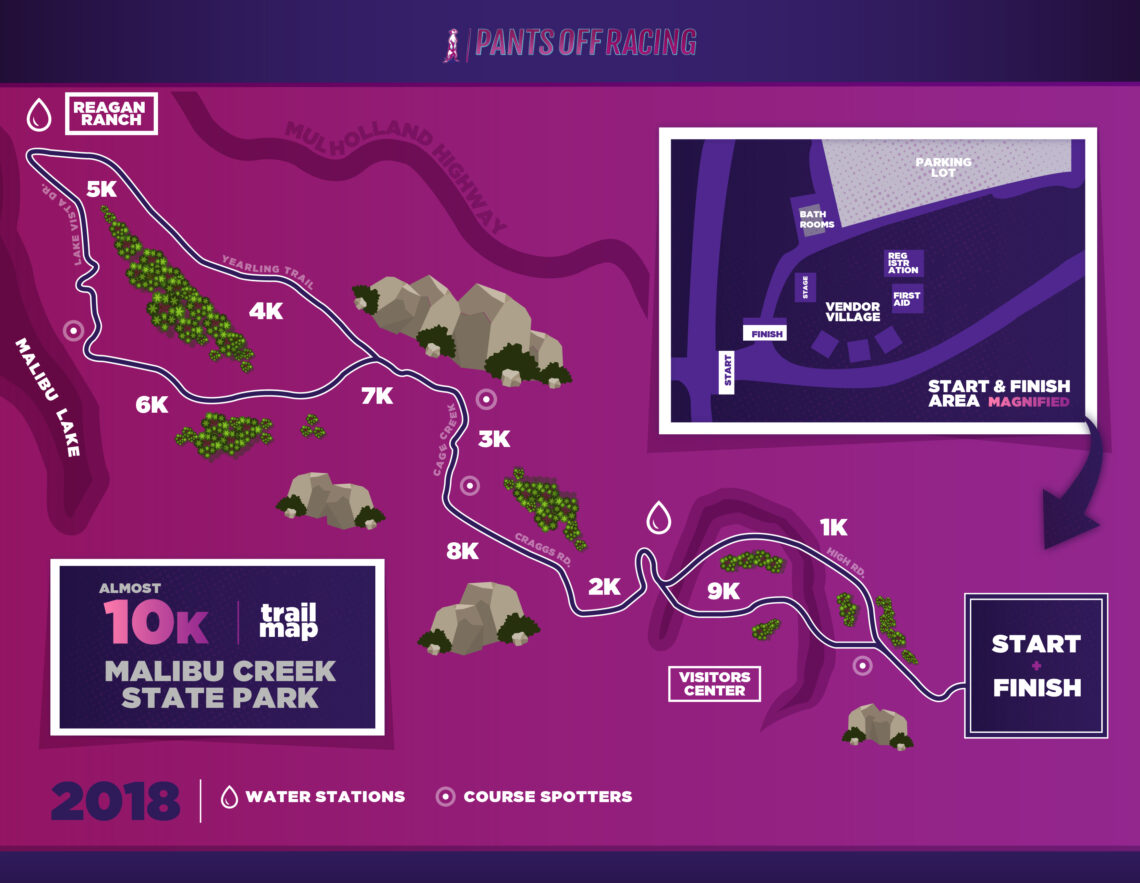 Saturday November 3rd, 2018 @ 9am
The 6th Annual POR Almost 10k
Malibu Creek State Park, Calabasas, CA
Details
Date:

November 3, 2018

Event Categories:

Event Tags:

Website: